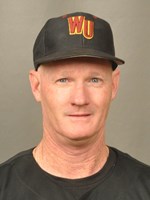 Tom Riginos is entering his seventh season as head coach of the Winthrop baseball team after leading the Eagles to back to back winning seasons.
Riginos was officially introduced as the new baseball coach at Winthrop University on August 4, 2010, becoming just the third head coach in the program's history.
In his first season with the program, two Winthrop players were drafted in the 2011 Major League Baseball First Year Player Draft (Tyler Mizenko, Eddie Rohan), while one signed a free agent contract (Robert Lake). Mizenko was drafted in the 28th round by the San Francisco Giants and Rohan in the 50th round by the New York Mets, with Lake signing with the Mets as well. The 2013 draft included pitchers Eric Ruth and Matt Pierpont. Ruth was taken in the 11th round by the Tampa Bay Rays while Pierpont went in the 26th round to the Colorado Rockies. Outfielder TJ Olesczuk was drafted in 2014 in the 40th round by the Baltimore Orioles.
Riginos earned his first career victory as a head coach in the Eagles' 14-9 season-opening victory over the San Diego State Aztecs, who were coached by Major League Baseball Hall of Famer Tony Gwynn.
Prior to joinging the Eagles, Riginos (pronounced rih-JEEN-uhs) spent eight seasons on the Clemson baseball staff under head coach Jack Leggett. He spent his final three seasons with the Tigers as the associate head coach/recruiting coordinator, and was an assistant head coach from 2003-07.
During his time as the recruiting coordinator at Clemson, Riginos brought in consecutive top-20 recruiting classes. The 2009 class was ranked ninth by Collegiate Baseball, while the 2010 recruiting class ranked 29th nationally by Baseball America.
Before heading to Clemson, Riginos spent nine seasons (1994-02) with head coach Pete Dunn as an assistant coach at his alma mater, Stetson University. He recruited eight classes for the Hatters program that garnered national recognition. Riginos also recruited six All-Americans and 10 Freshman All-Americans during his time at Stetson.
He coached four of the five top hitting teams in Hatter program history, which included the 2001 squad that posted a .324 team batting average and 78 long balls. The team also finished the season ranked 24th nationally in batting average, 12th in slugging percentage and 19th in homers per-game.
Riginos tutored five All-Americans and five of the best hitters in Stetson history including Chris Westervelt, Kevin Nicholson, Frank Corr and Sammy Serrano.
He began his collegiate coaching career as the top assistant and graduate assistant coach for two seasons at Eastern Kentucky under head coach Jim Ward. Riginos was in charge of the hitters and outfielders for the Colonels, and helped coach the team to a second-place league finish during the 1992 season.
"I have been with three head coaches who have probably more than 3,200 wins," said Riginos."There are probably not too many assistant coaches that have been under coaches like that. That right there gives me the experience to build the Winthrop program. The one thing that I will promise is that our guys will play hard, they will be competitive and they will represent Winthrop University in a first-class manner. I can guarantee you that."
As a player, Riginos was a four-year letter winner for the Hatters from 1987-90. He played under Dunn and helped Stetson to three NCAA Regionals and three conference titles. Riginos played in 225 career contests and hit .279, while finishing as one of the top base-stealers in program history with 61. He was also named team captain during the 1990 season.
He earned his bachelor's degree in Sports Administration from Stetson in 1990, and later earned a master's degree in Physical Education/Sports Administration from Eastern Kentucky in 1993.
A native of Clearwater, FL, Riginos is married to the former Shaileen Kelley. The couple has twin girls, Alexandra and Grace (16), and a son, Chatham (7). Tom also has a son, Ben (29) who plays professionally with the Minnesota Twins.